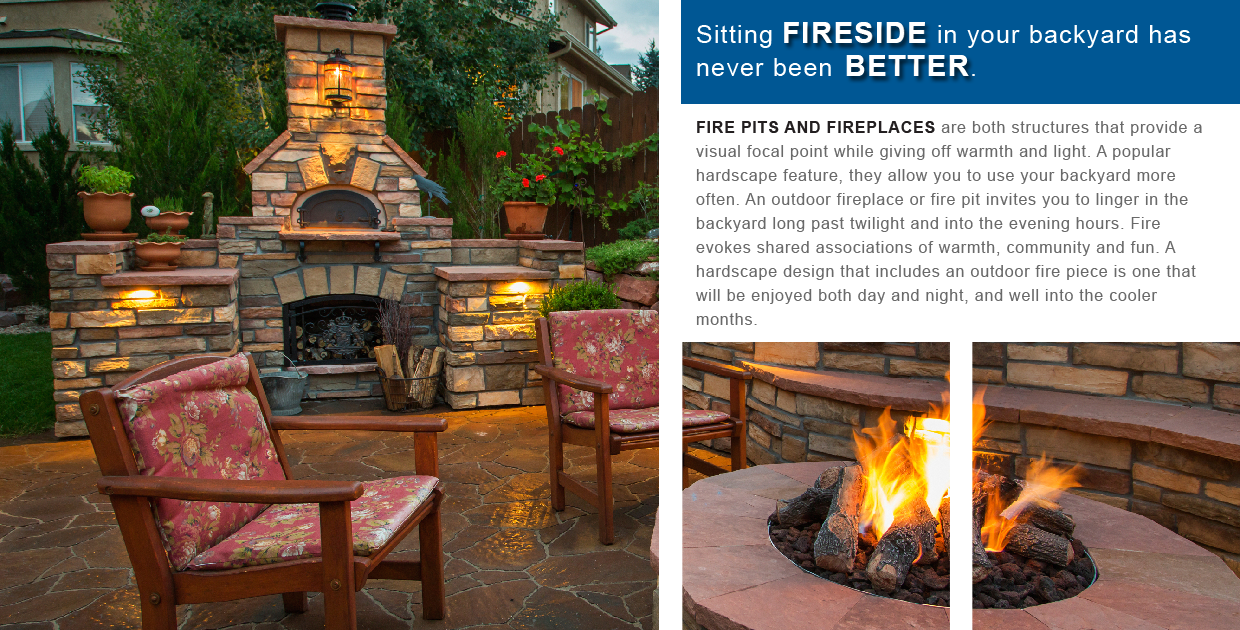 Outdoor Fire Pits and Fire Places will change your Outdoor Living Space into the neighborhood GATHERING PLACE.
The best investment you can make to your backyard patio and living area is adding fire. There's nothing better than the warm glow of a fire to enjoy an evening in your backyard. It is a multi-purpose and aesthetically appealing way to extend the use of your landscape. A custom outdoor fireplace can allow you to enhance the design of your property, creating a cozy atmosphere for entertaining guests and family.
Fireplaces evoke romance, intimacy, or wistful ambiance within a space. It can create the perfect atmosphere for cozy get-together and long hours of intimate conversation.
Fire Pits encourage lively conversations and social engagements, such as storytelling and roasting of marshmallows. Because of their structure, fire pits allow a 360-degree viewing area. They provide more seating spaces, too, so they're ideal for larger groups.
We are state licensed and insured.
We are state licensed and insured General Contractors serving Florida's residential and commercial industry since 1991. Coastal Improvement Corp. CGC#052924
We provide an exceptional experience.
We've designed and built quality outdoor projects since 1991. When it comes to making a long-term investment in your home, don't trust anyone less than a master craftsman.
We use our imagination.
Building Hardscapes is more than just "adding on." It's about creating timeless beauty and lasting value for your home. That's the reason we first listen closely to your ideas and desires. Then, we transform your dreams into realty, building a structure that enhances your home's architectural character.
We always put the customer first.
Our company is owner operated. That itself says a great deal about the level of customer service we provide. From the initial consultation to the final walk-through, personal attention to your project is always our primary focus.
We utilize the finest quality products.
Our criterion for both materials and construction is meticulous, guided by the highest standards in the industry.