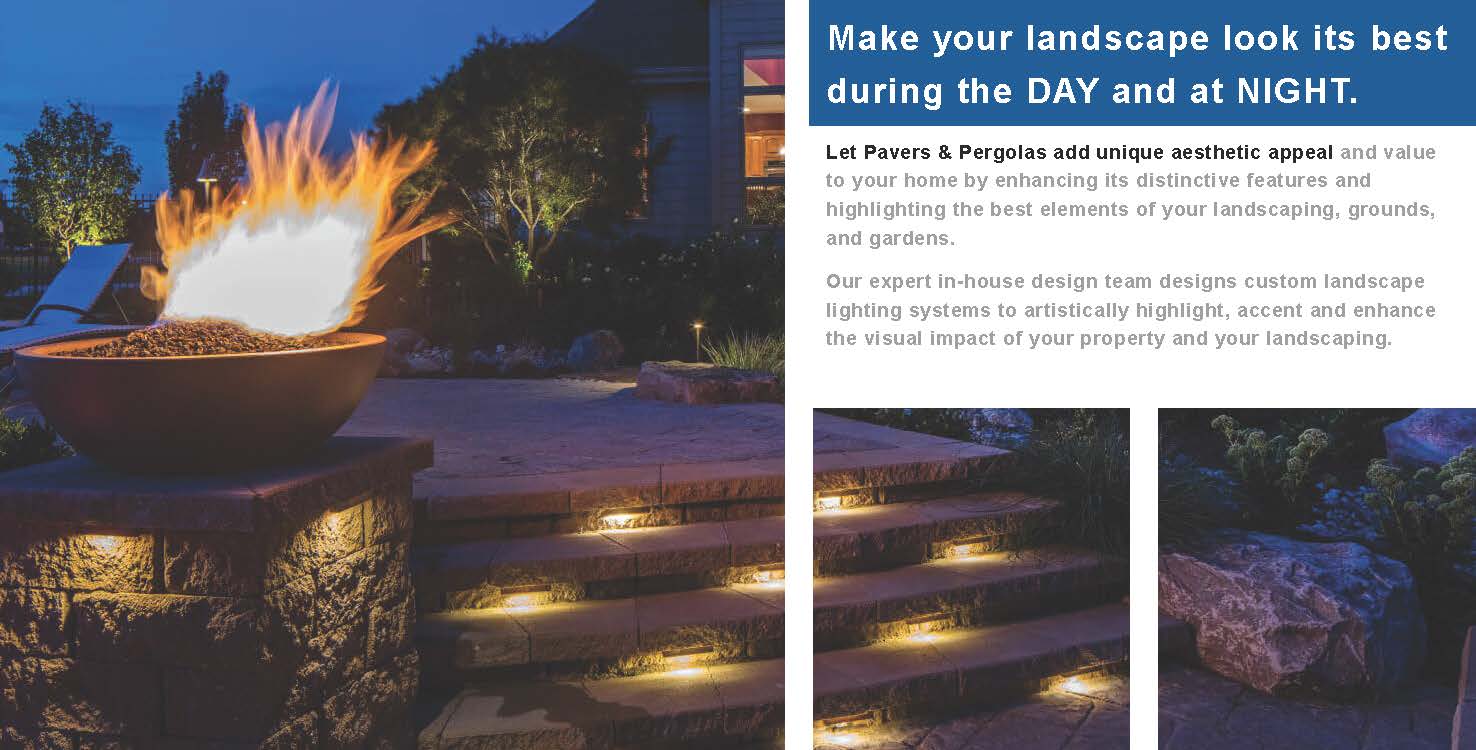 Add value, distinction and security to your home with landscape lighting.
Each home has its own unique story and reason for professional outdoor lighting.  We at Pavers & Pergolas believe coordinating the reflective elements of both your softscape and hardscape features is an important component in the beautification of your property and will make a major difference in how your property presents itself at night.
Your outdoor living areas become brilliant focal points with the innovative lighting designs from Pavers & Pergolas. A properly designed and installed lighting system will visually expand an outdoor space—that would otherwise go unused after dark—creating a warm and inviting atmosphere that can be experienced and enjoyed at all hours and seasons.
As dedicated landscape lighting experts, we are equipped to consider both beauty and safety. Proper lighting creates a welcoming and friendly home, enhances visibility in your yard for the safety of your family and your guests, while discouraging unwelcome intruders from lingering.
We are state licensed and insured.
We are state licensed and insured General Contractors serving Florida's residential and commercial industry since 1991. Coastal Improvement Corp. CGC#052924.
We provide an exceptional experience.
We've designed and built quality outdoor projects since 1991. When it comes to making a long-term investment in your home, don't trust anyone less than a master craftsman.
We use our imagination.
Building Hardscapes is more than just "adding on." It's about creating timeless beauty and lasting value for your home. That's the reason we first listen closely to your ideas and desires. Then, we transform your dreams into realty, building a structure that enhances your home's architectural character.
We always put the customer first.
Our company is owner operated. That itself says a great deal about the level of customer service we provide. From the initial consultation to the final walk-through, personal attention to your project is always our primary focus.
We utilize the finest quality products.
Our criterion for both materials and construction is meticulous, guided by the highest standards in the industry.