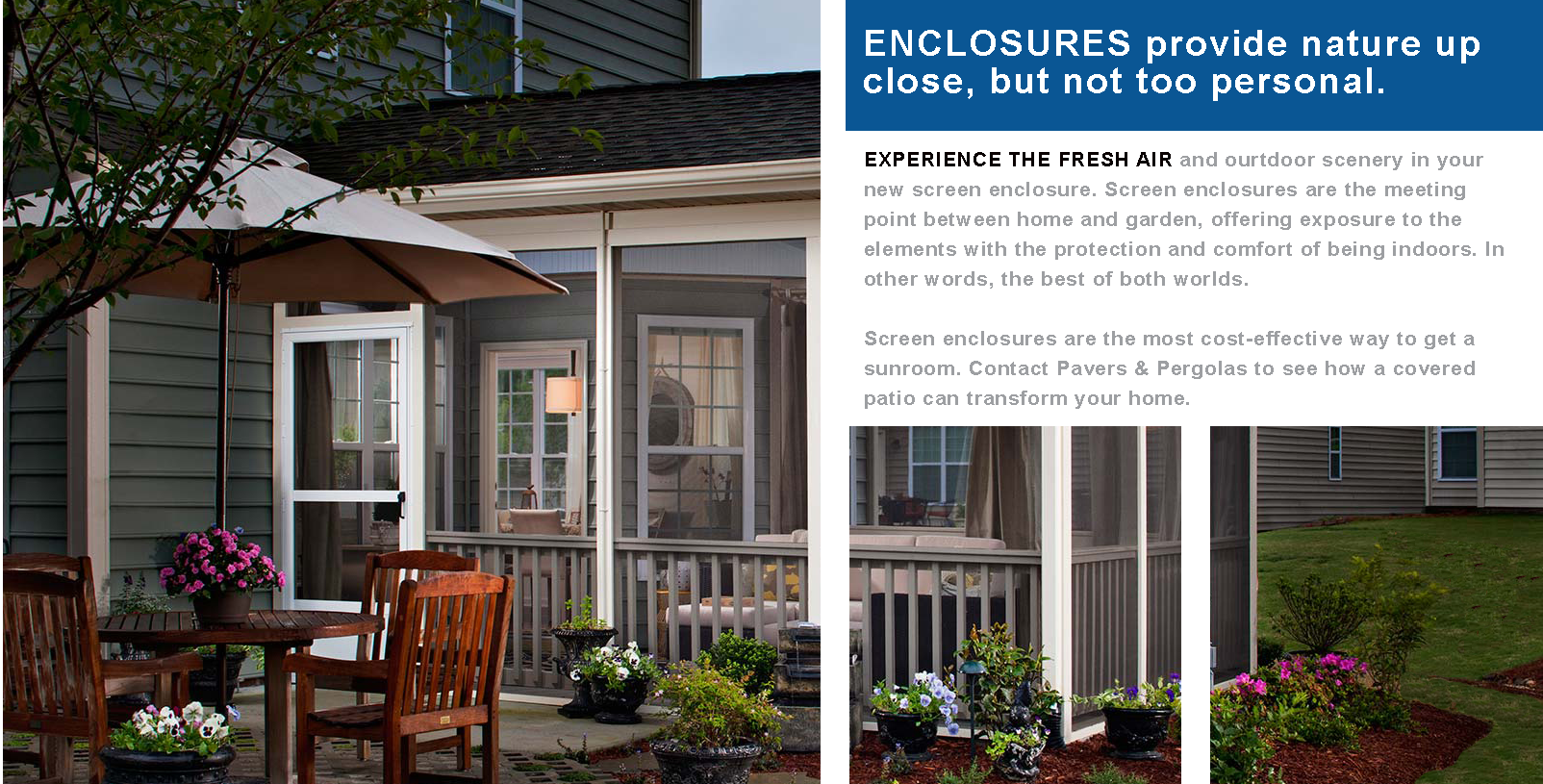 Expand your home and create a wonderful space for year-round use, add a screened enclosure.
Installing or remodeling a screened enclosure can provide myriad benefits. Not only can it transform dated into modern; crowded into comfortable; unsightly into visually appealing, a screened enclosure can be an investment that increases the value of your home.
From the beginning, Pavers & Pergolas artisans will work very closely with you to custom design your project, carefully planning the design of your screened enclosure to fit perfectly and compliment the architecture and style of your home.
Pavers & Pergolas aims to create more living space without compromising your style and comfort. When you convert your deck or porch into a screen enclosure, it adds usable space, like you added another room to your home. The additional living space created by walls of screen allow you to relax with family and friends outdoors in complete comfort.
We are state licensed and insured.
We are state licensed and insured General Contractors serving Florida's residential and commercial industry since 1991. Coastal Improvement Corp. CGC#052924.
We provide an exceptional experience.
We've designed and built quality outdoor projects since 1991. When it comes to making a long-term investment in your home, don't trust anyone less than a master craftsman.
We use our imagination.
Building Hardscapes is more than just "adding on." It's about creating timeless beauty and lasting value for your home. That's the reason we first listen closely to your ideas and desires. Then, we transform your dreams into realty, building a structure that enhances your home's architectural character.
We always put the customer first.
Our company is owner operated. That itself says a great deal about the level of customer service we provide. From the initial consultation to the final walk-through, personal attention to your project is always our primary focus.
We utilize the finest quality products.
Our criterion for both materials and construction is meticulous, guided by the highest standards in the industry.